OD-28 ("Odie") and Chiller - Terpene Trap for the CDO-28 Decarb Oven (not included)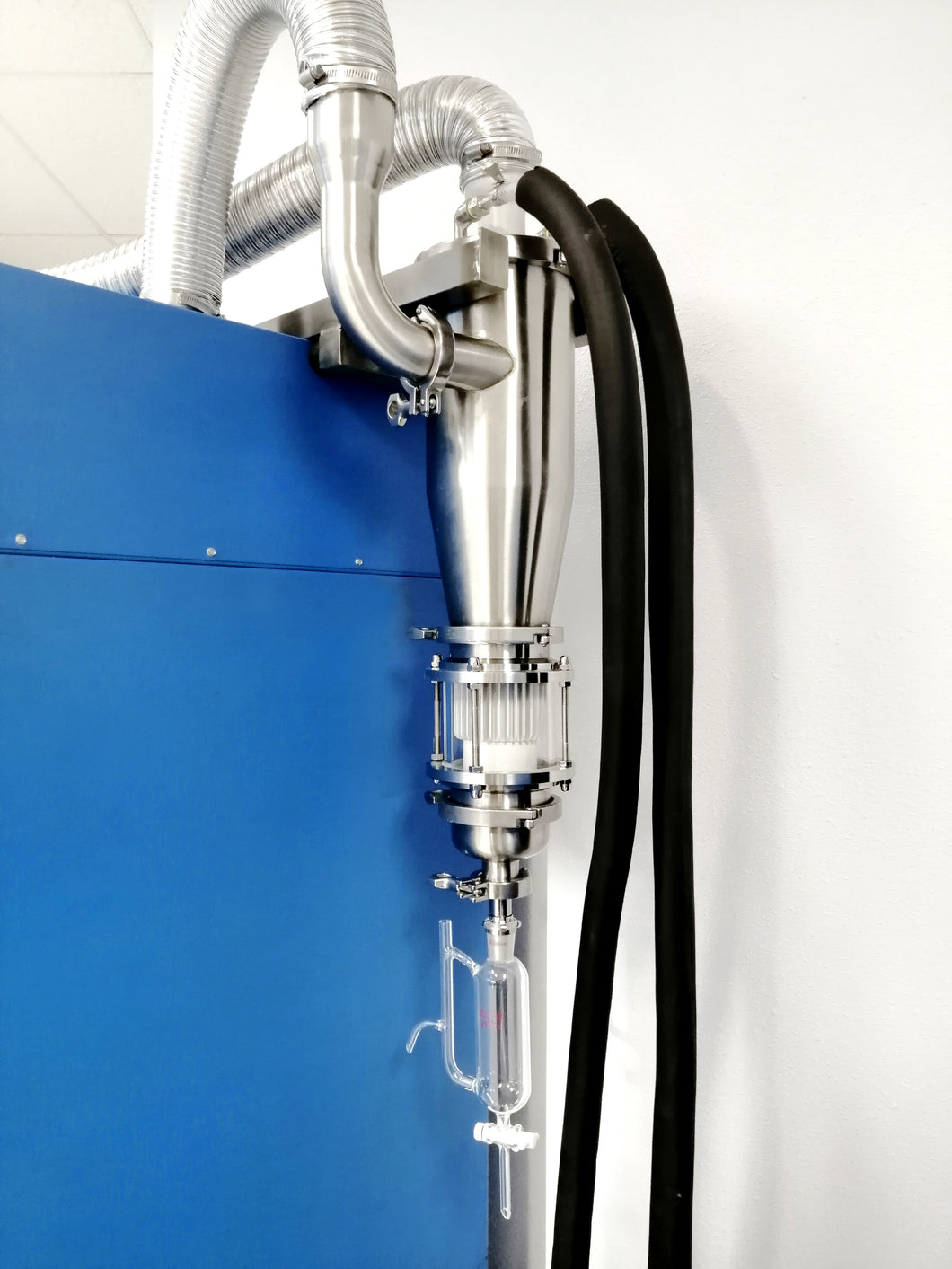 Scientific 710's OD-28 "Odie" Decarb Cold Trap was developed in partnership with Cascade Sciences. 
Odie is the only product on the market to collect terpenes during the decarb process.  Using high performance materials like Teflon coated aluminum (which is 16 times more conductive than Stainless Steel and 200 times more conductive than glass), then paired with our patent pending technology we have created the most efficient way to recondence the exhaust from the decarb oven. 
 By creating a closed loop system on your CDO-28, Odie simultaneously collects the hydrosol  and valuable terpenes being expelled out of the exhaust. It then recirculates the dryer, cleaner air back into the oven with every pass and dramatically reduces drying times.  When Odie is (easily) assembled to the CDO-28 it no longer sucks in the ambient air around the oven.  Thus resulting in cleaner and dryer air being used to dry the material.  Dryer material means higher percent yields when processed. This makes the operation more efficient and produces higher quality products with less work.  These valuable terpenes then can be used or processed for the client's desired application.    
 The OD-28 "Odie" has also solved the odor issue with the CDO-28.  Clients that process in sensitive areas, needed a solution for mitigating the odor being expelled in to the air.  By recirculating the air, Odie eliminates 90% of the odor being expelled from the oven.  Once again, Odie solves an issue by creating a closed loop system.  
Odie and its components are made in the USA. Distributed with a Pro Chiller and specially devised rack, it solves a multitude of issues that clients have with the CDO-28 Decarb Oven. Technology that collects valuable terpenes, maximizing the true abilities of your CDO-28 and helping your overall operation be more efficient and produce higher quality products.
Included: "Odie" Terpene Trap and oven mount, Pro Chiller, Terpene/Hydrosol Separator, and all required hardware for installation
"Odie" Terpene Trap Specifications
| | |
| --- | --- |
| Model | "Odie" (OD-28) Terpene Trap |
| Type | Glycol Terpene/Hydrosol Decarb Oven Cold Trap |
| Dimensions | 42" X 12" X 6" |
| Weight | 30 Lbs |
| Glycol Capacity | 1 Liter |
| Condensate Capacity | Unlimited |
| Condenser Surface Area | 760 in^2 (0.5 m^2) |
| Condenser Thermal Conductivity | 210 W/m*K |
| Materials | Stainless steel, PTFE (Teflon) coated aluminum, FKM (Viton) seals, borosilicate sight glass and  terpene/hydrosol separator |
| Application | Condense terpenes and hydrosol from decarboxylation ovens |
| Intake | 3" OD |
| Exhaust | 3" OD |
| Working Fluid | 50:50 Glycol/Water Mixture |
| Working Temperature | 0F to 300F (-17C to 150C) |
| Warranty | 1 Year Parts and Labor |
Pro Chiller Specifications
| | |
| --- | --- |
| Cooling Capacity | 3200 BTU/hr |
| Glycol tank capacity | 5.5 Gal |
| Dedicated Circuit | 15 Amp |
| Voltage | 115/60 V/Hz |
| Compressor Power | 3/8 hp |
| Thermostat | Digital |
| Glycol Pump | Totton SPC42 |
| Refrigerant | R134a |
| Refrigerant amount | 0.375 Lbs |
| Dimensions (W x D x H) | 16.7" X 15.2" X 29.7" |
| Weight | 85 Lbs |
| Warranty | 1 Year Parts and Labor |
-->