Black Hole - Terpene Cold Trap (Open Jacket)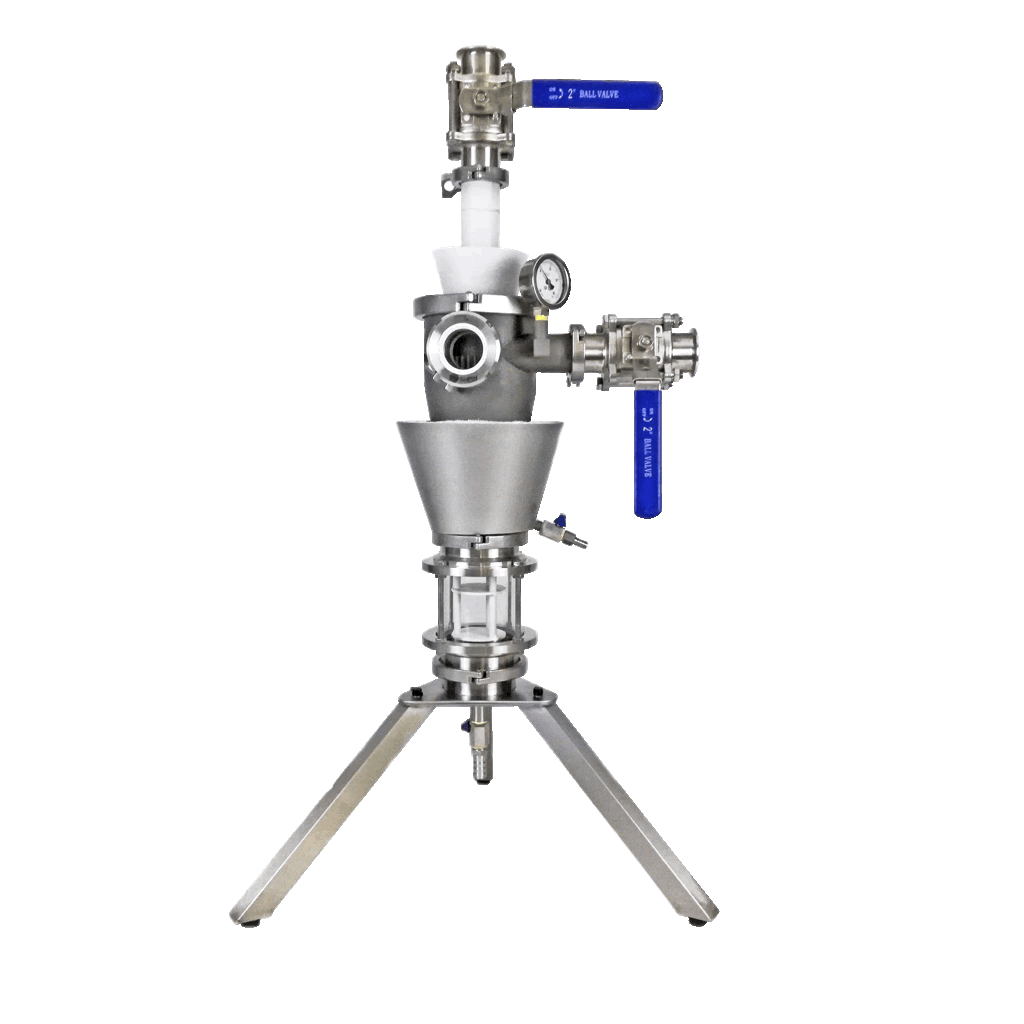 The Black Hole Cold Trap addresses problems associated with traditional "annular cold traps.". Most cold traps are designed to protect the vacuum pump, and can substantially tax achievable throughput in process. The Black Hole can be used to protect your pump, or as a cryogenic condenser designed to capture volatile compounds that often pass through a traditional cold trap.  
The vast majority of cold traps (and condensers) used have condensing surfaces that allow for condensate to freeze to the surface, greatly reducing performance. 
The Black Hole is a high conductance, low impedance cold trap specifically designed to overcome the failures of other cold traps on the market.  The Black Hole can also be manufactured with a variety of vapor fittings from KF-10 up to 2" Try Clamp. Having the ability to custom the Black Whole to fit your needs.  This next generation trap has a specialized surface finish and topology that encourages condensation and draining of condensate, reducing chance of sticky frozen terps taxing traps performance." 
Like all of our products the Black Hole Cold trap is Engineered, tested and manufactured in house to the Highest standards.  With performance and efficiency being the main driver.  Collecting the most Terpens per run is the ultimate goal.
Product Specifications 
Model:
Black Hole (open jacket)
Type:
LN2/CO2 Low Impedance Cold Trap
Dimensions:
16" X 17.25" X 32" (400mm X 440mm X 800mm)
Weight:

Condensing Insert: 65 oz.

Condensing Exterior: 150 oz.

Total: 50.4 Lbs

Liquid Refrigerant Capacity
Internal: 1.25 Liters
External:  1.25 Liters
Condensate Capacity
1.5 Liter
Condensate Surface Area
500 in^2
Construction:
Stainless Steel, PTFE coated insert, 

Viton Seals

Application:
Condense VOC's from vapor stream
Pressure Range
-14.7psi - +50 psi (-30mmHg - +2,500mmHg)
Intake
2" Tri Clamp (KF50 or 

KF25 available upon request)

Exhaust

2" Tri Clamp (KF50 or 

KF25 available upon request)

Condenser Sight Glass
2"
Condensate Sight Glass
4"
Working Fluid:
Liquid Nitrogen or Dry Ice
Installation:
Freestanding
Display Type:
Analog Pressure Gauge (vacuum to +30 psi)
Warranty:
1 Year Parts and Labor
Manufactured
USA
-->