Iron Fist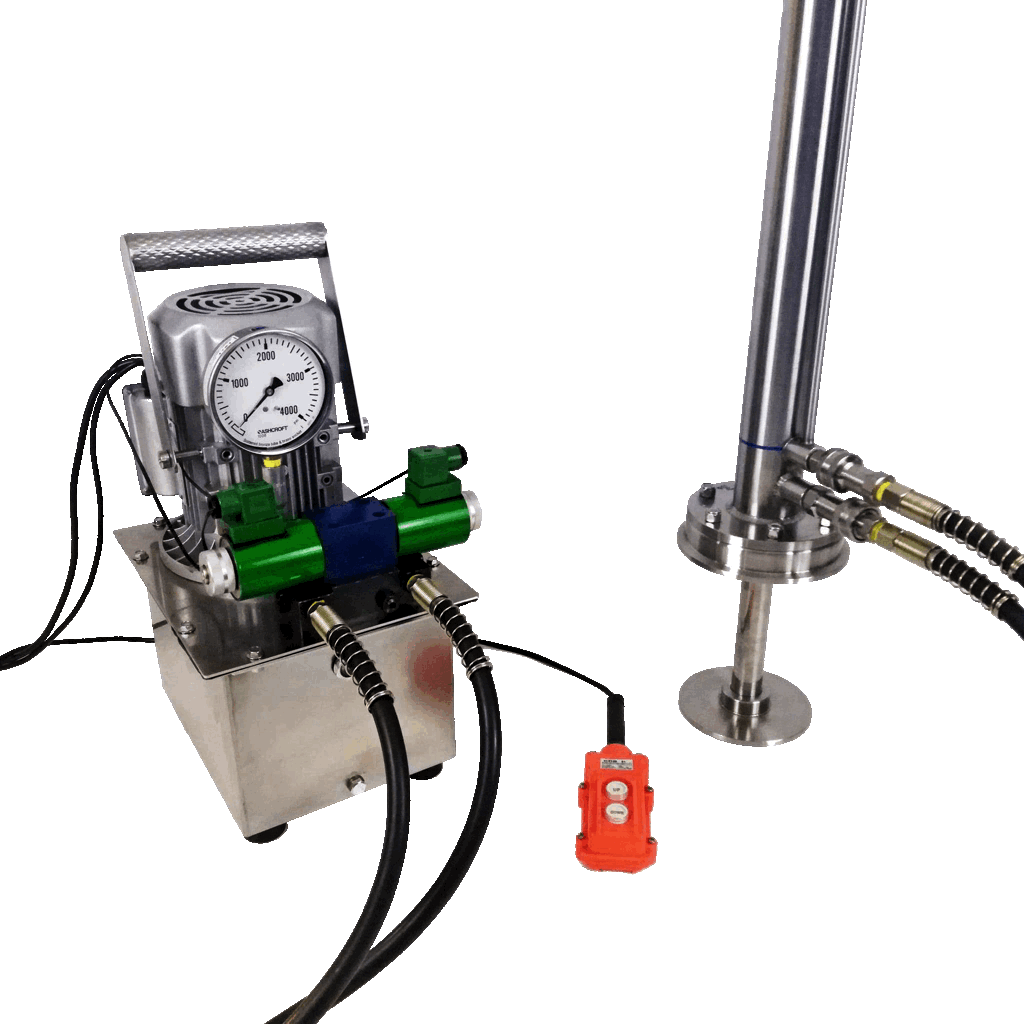 Are you tired of having to pack and unpack your columns by hand? Are you tired of  how inefficient socks are? Are you looking to get more material per column? Are you looking for higher % yields? Are you looking to make your overall processes more efficient? If so the Iron Fist is the piece of equipment for you. Revolutionizing column packing and unpacking, Scientific 710's Iron Fist is a revolution in efficiency processors are looking for.  
Everyone knows the trials and tribulations with having to pack and unpack columns by hand.   It takes  a  toll on employees, the wasted time it takes to manually pack and unpack, and the huge mess it leaves behind.  The Iron fist solves these issues by doing all the tuff stuff for you.   Simply load your columns  with as much material as desired.  When finished running your column simply hook the Iron Fist to your column and with the ease of a button, push out the material.  The  Iron Fist will cut your loading and unloading time down by more than half. 
In comparison the Iron Fist out performs in every way.  For instance, with socks the amount of material is limited to a finite amount. The Iron fist will at a minimum increase the amount of material per column by 50% and upwards of 100% more material per column.  While adding more material is a huge plus, making sure the material is evenly and uniformly packed is just as important.   By packing the material evenly, which is very difficult by hand or with socks,  you greatly reduce channeling and produce a more even soak.  The benefits of having a tighter pack and an even soak with less channeling is higher % yields.  The Iron Fist will significantly increasing  production by streamlining your loading and unloading operation.  While simultaneously increasing throughput and producing a higher quality product at a lower cost.      
Product Features
Effortlessly pack columns with 0-100% more material. User controls how much material to pack by adjusting hopper column (not included) length and packing force applied.

Evenly distributes packing pressure for uniform solvent distribution, reducing solvent channeling.

Biomass remains compacted after it is unpacked minimizing biomass waste volume. Latent solvent remains trapped in material, reducing fire danger.

Encases column when in use, reducing airborne particles in accordance with occupational safety and health standards.

Removes wax, lipids, oils, etc. from column walls with each use. The biomass scrubs the column walls clean as it's pushed out through the extraction column.

Double acting cylinder extends and retracts.

Hand held remote for easy operation.

Can be used in any orientation.

Easily adaptable to different column diameters with additional Plunger and Flange set. (sold separately)

Hydraulic oil is USP Grade NSF 3H, H1 registered and complies with FDA CFR 172.878 3H.

Food grade stainless steel construction, user manual, 1 year warranty, and made in the USA.
Product Specifications

Models:

IF-300 through IF-1200 (built to order)

Type:

Hydraulic Iron Fist

Dimensions:

Total Cylinder Length: Stroke Length + 6"

Cylinder OD: 2.50" (column diameters 3"-6")

Cylinder OD: 3.00" (column diameters 8"-12")

Hydraulic Power Unit: 9.4" Wide X 15.7" Tall X 11.8" Deep

Weight:

Cylinder: 8 Lbs / foot

Hydraulic Power Unit: 55 Lbs

Stroke Length:

Built to order

Cylinder Bore:

Built to order

Construction:

Food-Grade Stainless Steel

Application:

Increase Percent Yields, Increase Overall Throughput, Reduce Labor

Voltage:

110 Volts / 60 Hz

Watts:

900 Watts Max

Amperage:

11.5 Amps Max

Motor:

Inductive

Hydraulic Pump:

Dual Stage

Hydraulic Flow:

1.3 GPM

Tank Capacity:

1.9 Gallons

Max Pressure:

4,000 psi

Max Force:

12,560 Lbs (column diameters 3"-6")

19,625 Lbs (column diameters 8"-12")

Working Fluid:

Direct Food Contact Biodegradable Oil

Fluid Certifications:

USP Grade NSF H1, H3 Registered Oil. Complies with FDA CFR 172.878 3H

Cylinder Installation:

Freestanding (Vertical or Horizontal) or Hanging

Valving:

Double Acting Solenoid with Handheld Remote

Display Type:

Large 4" 4,000 psi Stainless Steel Pressure Gauge

Warranty:

1 Year Parts and Labor
-->